Master Certified Negotiation Expert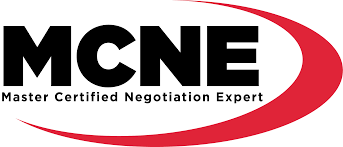 What is a Master Certified Negotiator Expert and should it matter?
To be a Certified Negotiation Expert is not something that is required by the Arizona Association of Realtors, nor is it required to get a Real Estate license. It's an extra credential that I felt I needed in order to represent my clients at the utmost capacity.
With dozens and dozens of real estate certifications available, the MCNE designation is the premier negotiation designation in real estate! Agents who complete this training are in the top 1% of all agents nationally in the #1 skill buyers and sellers should look for in their agent.
Price is very important when buying and selling a home, but not everyone realizes how many other terms in a real estate transaction need to be negotiated.
For example:
- How much earnest money should be deposited and will it be refundable?
- Does the closing date work for you?
- What title company to hire and who pays what title fees?
- How long should the inspection period be?
- How will the appraisal process be handled?
- Who pays for a home warranty if requested?
- Will repairs be done to the property?
- How much does each party pay towards closing costs?
- The list goes on.
Marketing and Price are just two pieces of the puzzle. By studying negotiation techniques and over a decade of real estate experience, I negotiate every piece of the puzzle for you.